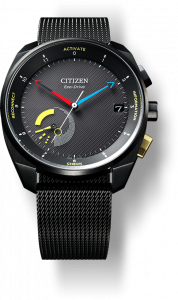 The Citizen "Eco-Drive Riiiver" smartwatch, to be precise, with the device's Bluetooth capabilities being driven by Nordic's Bluetooth 5.2 nRF52810 RF SoC.
Nordic writes:
Unlike conventional watches that have prefixed button functions, Eco-Drive Riiiver allows users to not only customize the buttons to suit their own preferences, but also create up to three miniprograms — known as 'iiideas' — that can be actioned from, or displayed on the smartwatch to suit the user's own lifestyle and interests.

For example, among its features are the ability to connect with smartphones via Bluetooth, connect with third-party devices and services via Riiiver (CITIZEN's own open-source IoT platform), to customise the watch functions via the Eco-Drive Riiiver App and to measure calories, steps and light levels.
What this means in practice, for example, is that a specific button could trigger the smartwatch to update the user on the latest score in a sporting event,
…
Read More